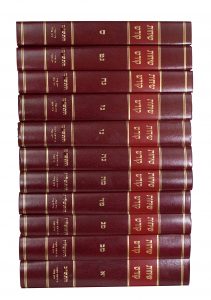 35,000 Pages of Sichos
The Rebbe's Sichos of the last decade or so have been published in orderly form, in the two series known as Hisvaaduyos and Sefer HaSichos. In earlier years, however, transcription and distribution of the Sichos were not well-organized, and most were just typewritten and mimeographed. There were no organized teams working on them, so the style and form were not uniform, and they appeared irregularly.
A few years ago, the first multi-volume set of "Sichos Kodesh" was published, including all existing transcripts of Sichos of the years 5710-5741 (1950-1981), mostly in their original form and in Yiddish. This was the largest collection of the Rebbe's Torah teachings to date, including the overwhelming majority of his Sichos. However, many parts were difficult to read and understand, and many Sichos were missing.
The New Edition
For several years now, a large team has been working on a new edition of Sichos Kodesh. They have checked through dozens of private collections to reveal many Sichos never yet published.
Different versions of transcripts have been compared also with tapes (when available) to arrive at the best and fullest text. And the team has added source-references for quotes, where necessary.
For the first time, various diaries written by students about events in the life of the Rebbe and 770 have been culled for material. Every possible source has been located, checked and recorded in the growing collection. We have had the assistance of experts in this field who were privileged to receive many instructions from the Rebbe MHM about editing and publication.